Lone Star Plastic Surgery: Dr. Sean Hill
5550 Warren Parkway, Suite 210
Frisco, TX 75034
Phone: (214) 937-4879
Monday - Thursday: 8 a.m.–5 p.m.
Friday: 8 a.m.–2 p.m.

Embrace

RF
If you're bothered by loose skin and fullness along the jawline, under the chin, and on the neck, but are not ready for surgery, EmbraceRF may be just what you are looking for. This minimally invasive treatment uses precisely controlled and directed radiofrequency (RF) energy to tighten lax skin and melt away small pockets of fat for a sleek, youthful look. Patients considering EmbraceRF travel to our Frisco practice from Plano and throughout the Dallas-Fort Worth Metroplex for this effective alternative to facelift and neck lift surgery.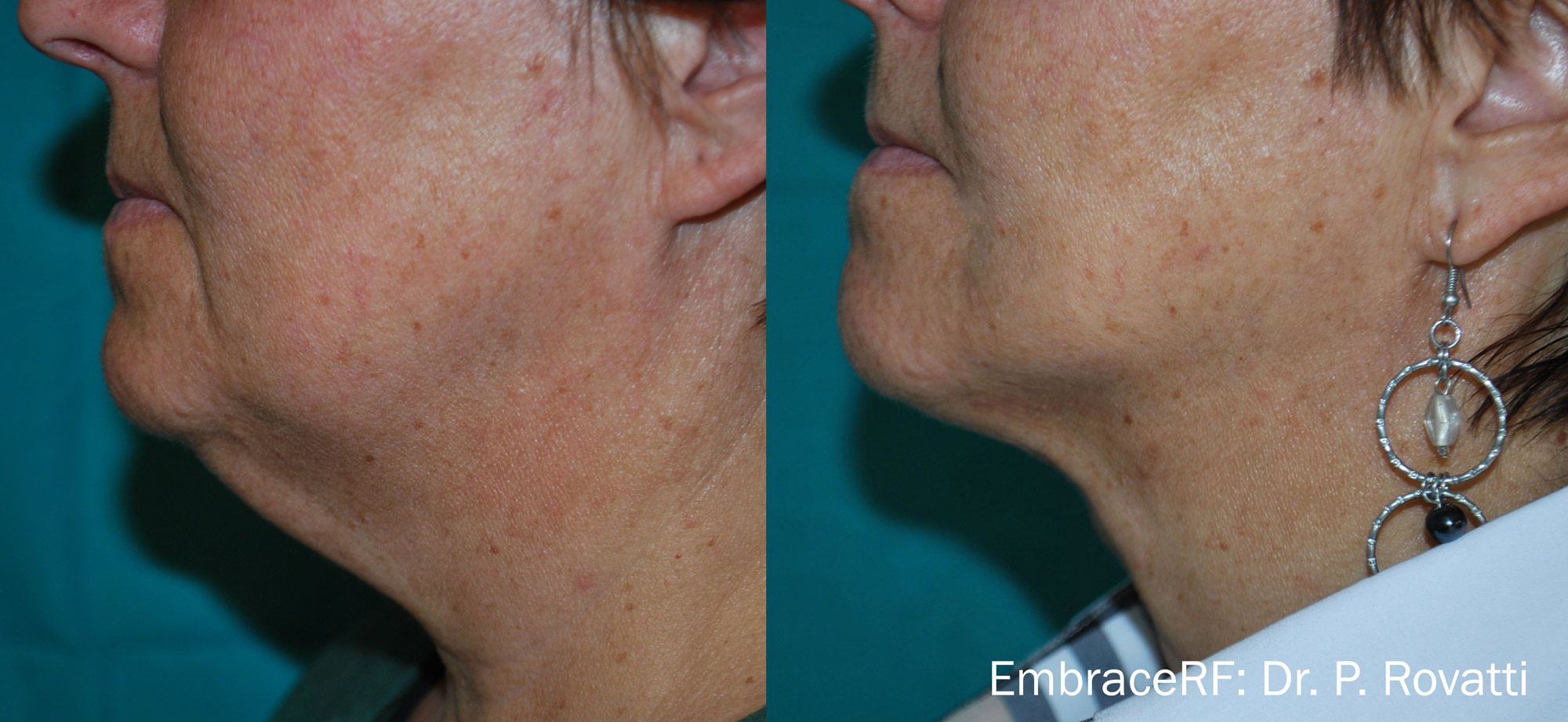 Am I a candidate for EmbraceRF?
EmbraceRF is most effective for people with mild to moderate laxity of the lower face and neck who want to avoid the scarring and downtime involved with surgery. These treatments provide a variety of improvements, which include:
Tightening lax, thinning skin
Reducing a double chin
Smoothing out wrinkles and fine lines
Improving skin texture
Fading acne scars
People with advanced aging may need a facelift and/or neck lift instead of EmbraceRF to attain their desired improvements. EmbraceRF can also renew the results of previous facial plastic surgery. During your consultation with board-certified plastic surgeon Dr. Sean Hill, he will ask you about your concerns, perform a physical exam, and recommend a personalized treatment plan.
Embrace RF

Before & After Photos
Before & After
Case #39
This patient received Embrace RF procedure (Facetite / Morpheus) in office to tighten skin, reduce wrinkles, reduce sun spots and acne scars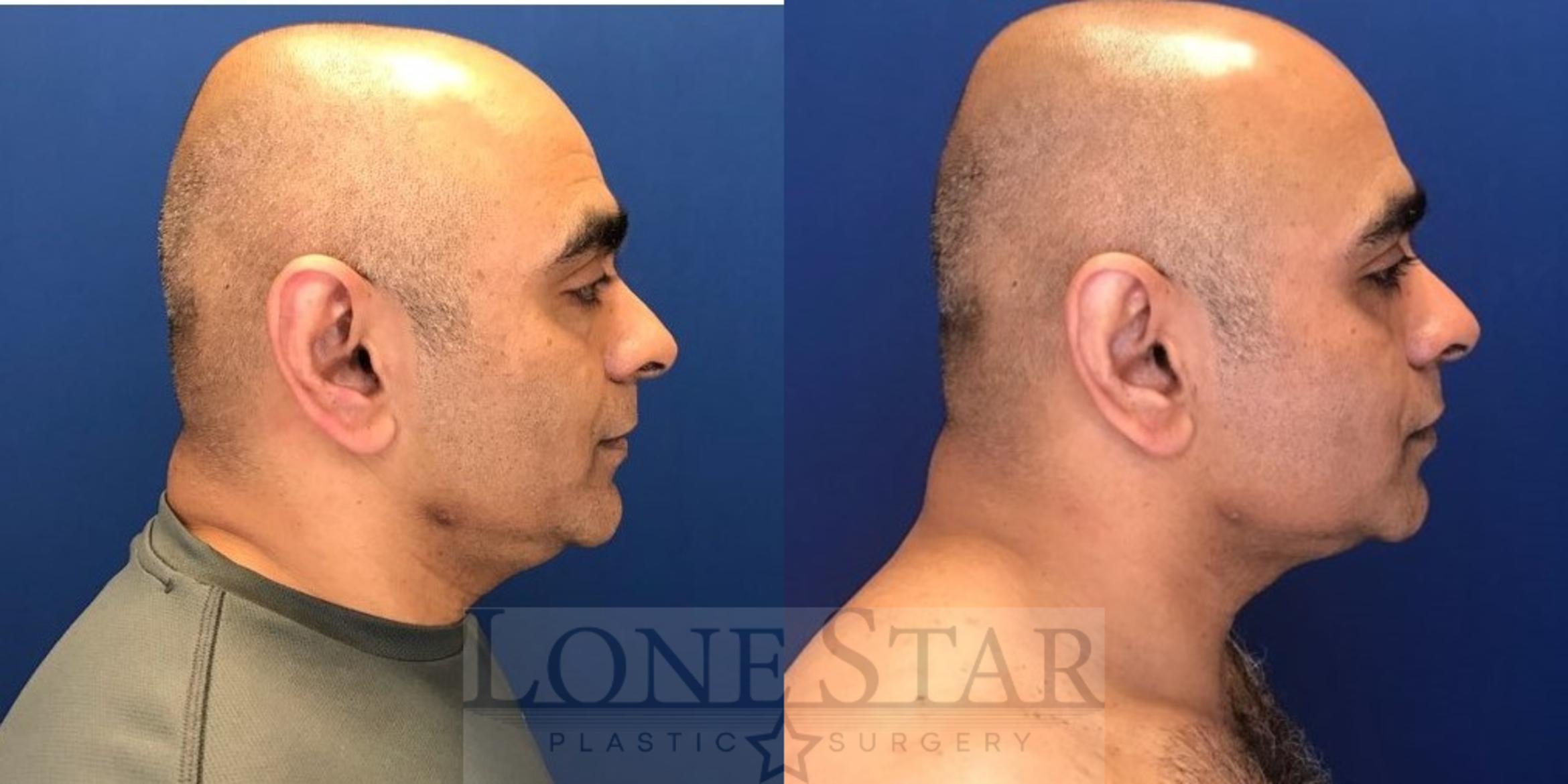 Before & After
Case #30
Male patient seen here 3 months post EmbraceRF treatments. Patient underwent EmbraceRF Facetite treatment and 3 Morpheus treatments.
Keep in mind that each patient is unique and your results may vary.
How are EmbraceRF treatments performed?
Dr. Hill performs these office treatments in about an hour using local anesthetic. EmbraceRF is actually a combination of 2 med spa procedures, FaceTite and Morpheus8, performed one after the other as follows (see animation):
Step 1
FaceTite is performed with a special handpiece that has an external electrode that is run along the top of the skin, while a long thin probe, inserted through a tiny hole in the skin, emits RF energy. The skin and fat are heated to carefully controlled temperatures—from the outside surface and underneath—causing the skin to tighten and fat to melt. The RF energy also stimulates collagen production for additional firming of the skin over the following 6 months.
Step 2
Next, Morpheus8 fractional RF microneedling is performed while the areas are still numb. The handpiece is placed on the skin and quick pulses of RF energy are released into the skin and underlying fat as the needles reach a specific depth. The handpiece is moved to an adjacent spot until there is complete coverage of the skin. These treatments further tighten the inner structures of the skin and set off the skin's natural healing process for continued improvement over the following weeks.
Most people need just a single EmbraceRF treatment to achieve long-lasting results similar to surgery—with no scars.
A Reputation Built on Results
Wonderful welcome staff! An office that truly cares about their patients. And a Doctor worthy trusting...
Everyone in the entire office is an absolute delight and my experience was top notch.
Dr. Hill went above and beyond to make everything work for me. So thankful for his kindness and direct...
Joy does a great job! Had a Hydra Facial today and it was amazing!
What is AccuTite?
Lone Star Plastic Surgery is among the first practices in Texas to offer patients the AccuTite procedure for precise skin tightening and fat reduction. This handpiece looks much like the FaceTite handpiece but is more compact. It is designed for rejuvenating the brow, under-eye area, and other areas of the face, as well as the upper arms, knees, and other delicate areas of the body.
What is recovery like?
While it is common to have temporary soreness, swelling, and redness, these side-effects are usually mild. Most patients feel comfortable going out in public within just 2 to 3 days.